Portable Charging Cheat Sheet
March 5, 2018
21885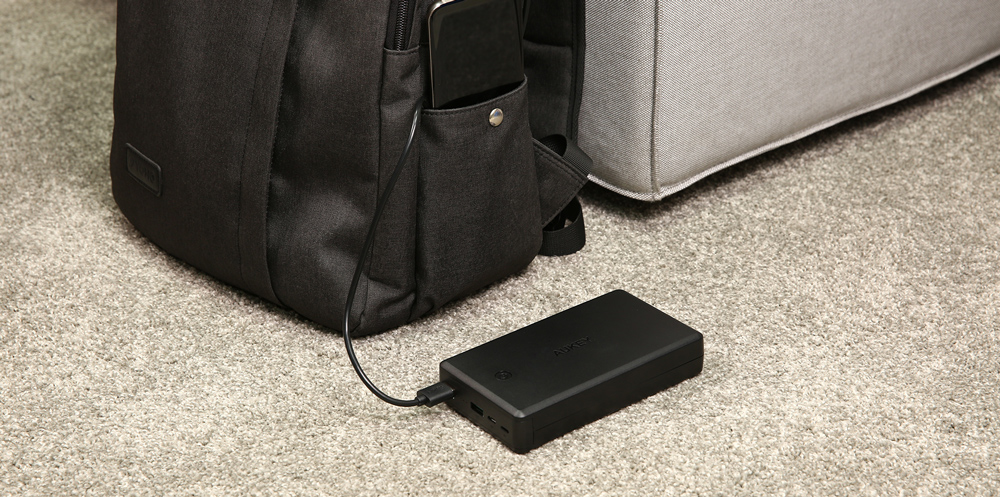 Imagine a world where you never have to look for an outlet in a public place again, a world where you can plug into your pocket or backpack to charge your phone or computer. Seize the day because this is the world we live in thanks to the portable charger, the battery bank, the juice crank, the power pack, the portable external battery charger, the charging miracle most commonly known as the power bank.
So how do you find the right power bank for you? Perhaps the most common (and complicated) question raised when choosing a power bank is how many times can this thing charge my stuff. From there, we can look at all the other things you might need like portability, ports, and fast charging.
How many times can this power bank charge my device?
Let's start with an easy example: You have a power bank with 10,000mAh battery capacity and you want to charge the 1,821mAh battery of an iPhone 8? Just divide 10,000mAh by 1,821mAh and the answer is about 5.5 times right? Wrong.
Charging is not a 100% efficient process. In our example, when power is transferred from the 10,000mAh power bank battery to the iPhone 8 battery (charging), some power gets lost because of voltage conversions. Does your phone or tablet heat up while it's charging? This is a common side effect of these voltage conversions. The truth is, regardless of claimed battery capacity, most 10,000mAh power banks may actually only be able to charge an iPhone 8 about 3.4 times, not 5.5 times.
To check exactly how many times any power bank can recharge a specific phone or tablet, check out our handy power bank calculator.
This just covers a basic example, so let's get into the more specific needs.
I want to charge my tablet(s)…

If you want to charge an iPhone 7 and an iPad Mini, consider looking for a power bank between 10,000mAh-20,000mAh with dual USB ports and at least 3.1A of combined output. A Lightning input port is another convenient feature that would allow you to recharge the power bank with the same cable you use to charge your iOS devices. To simultaneously charge 2 iPad sat full speed though, you'll need more power. Look for a power bank that has two or more USB ports and at least 4A of total output available.

My device is capable of a fast charging technology…

This could include Qualcomm Quick Charge or USB Power Delivery. If your Android phone has a Qualcomm Snapdragon CPU, there's a good chance its compatible with Qualcomm Quick Charge. If you are a photographer with a Samsung Galaxy S8 and a bunch of USB powered camera gear, look for a bigger power bank that offers Quick Charge and has multiple USB ports. A larger battery capacity will protect you from low battery woes, and with multiple USB ports you'll be able to charge a few different things at the same time. Plus, you can fast charge your S8 or other Quick Charge compatible devices like the DJI Spark. Apple products do not charge faster with Quick Charge.

Power Delivery is a new universal fast charging technology available on the Nintendo Switch, Apple's new iPhones and MacBooks, and Google's Pixel phones. Though you should pay close attention to available output wattage, as not all Power Delivery USB-C ports are created equal: to charge a 12" MacBook at full speed, you'll need a power bank capable of 29W Power Delivery. That same power bank can be used to fast charge the new iPhones or Google Pixel phones at 18 watts (9V 2A). It will also charge a new 13" MacBook Pro, but only at about half the speed of the 61W Apple OEM MacBook Pro Power Delivery charger.
My device doesn't have a fast charging technology…
That's ok, you can still use any power bank. AUKEY power banks all have AiPower Adaptive Charging Technology, which provides the best and safest charging speed for your device. Just remember each device is engineered with a limit of the charging, so even if you use a more powerful power source, it doesn't necessarily mean that the device will charge faster. The AiPower ports will provide the maximum speed your device and power bank will allow.
Which one should I actually buy?
There are lots of power banks out there with all of these ports and charging technologies in different configurations, sizes, colors, and materials all looking for a home in your pocket, backpack, or yurt.
Check out our comparison chart below for some suggestions.
Power Bank Specs Comparison